RH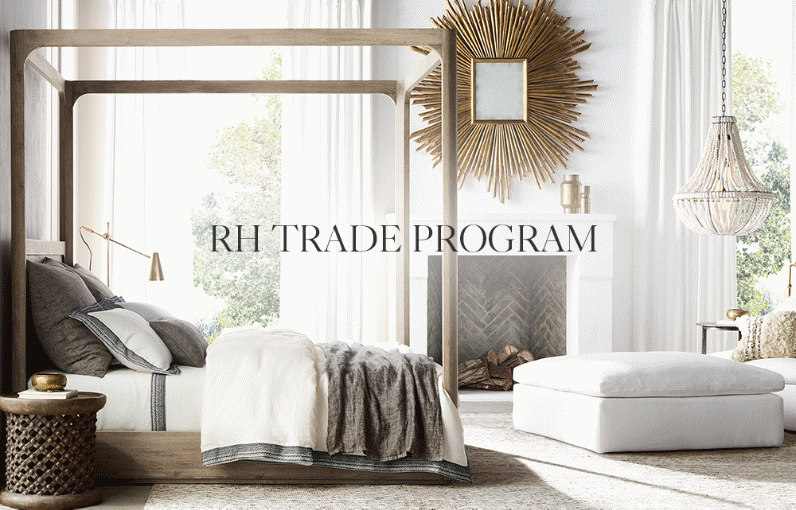 YOUR INDUSTRY PARTNER
If you are a professional interior designer, architect, home stager, or licensed general contractor that works with homeowners on their design or improvement projects, we encourage you to join our RH Trade program.
With your RH Trade account, you'll have access to our dedicated Trade Project Specialist Team both within your local gallery and via phone or email.
You'll receive all benefits of our RH Members program, which offers you 25% savings year-round on full-priced products as well as an additional 20% discount on products on sale.
You will also enjoy tailored support for your design business, including consolidated billing, online ordering and new product previews, as well as access to a single point of contact to help you manage multiple customer projects.
To apply for the RH Trade program, please complete our online application.
If you are a single-family residential production or custom builder, a multi-family residential developer, a professional contractor or interior design firm working with residential developers, please contact our RH Contract team to support your business. To learn more about RH Contract, visit the RH Contract page.
RH Trade Program
Once your application has been submitted with valid documentation (see list below), you will receive an email confirmation indicating your application is being reviewed.
An RH Trade representative will notify you by email within 48 hours to confirm the outcome of your application.
At least one of the following documents is required to support your RH Trade application:

Valid membership in a major design organization (e.g., ASID, IIDA, AIA, NKBA, IDC)
Interior design certification (e.g., NCIDQ, CCIDC)
Valid business license verifying your business in interior design or licensed general contracting
Valid EIN or Resale Certificate confirming active interior design based business
Membership proof from an international interior design organization equivalent
The RH Trade program is only for professional interior designers, architects, home stagers, and licensed general contractors that work with homeowners on their design or improvement projects. The program is not open to other businesses not focused on the residential design and home improvement segment. If your business does not qualify for the RH Trade program, you can enjoy other benefits by joining our RH Members Program.
If you intend to purchase merchandise for resale, you will be required to supply a Resale or Sales Tax Certificate. Without this documentation, sales tax will be applied to all orders. Signed Resale or Sales Tax Certificates are required for each state where you seek tax exemption (US only).
Placing RH Trade Orders
RH Trade orders can be placed online. With your RH Trade account number, you can sign in here to place your orders online using your RH Trade program discount.
Our gallery and customer service teams also offer dedicated support throughout the buying process.
To place your RH Trade order in one of our galleries, simply present your RH Trade program confirmation email and a valid photo ID in the gallery. Your RH Trade discount of 25% will be applied to all full-priced products as well as an additional 20% savings on sale items. To place your RH Trade order with one of our RH Trade representatives, call 877.733.6200.
RH Trade program benefits may only be used by the named RH Trade account holder and their recorded authorized users. Misuse of the program will result in program termination.
For questions about the RH Trade program, contact our dedicated Trade Project Specialist team:
Phone 877.733.6200
Email Trade@RH.com
Questions?
You'll find answers by checking our Trade Sales FAQs.